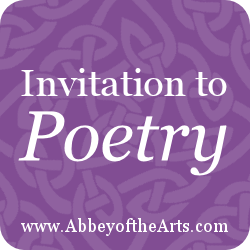 Abbey of the Arts
full moon rising
Christine introduces this party by reflecting:
I love the rhythms of the moon's waxing and waning and long to find ways to integrate an awareness of her cycles into my own spiritual practice. This past weekend was the full moon. We had some clear skies around Seattle and for a couple of nights while at my hermitage I was blessed with a clear vision of the moon rising in the sky gently illuminating the world with her radiance. I could even see the Olympic mountains across the horizon, the moon's light reflecting on their snow-covered peaks. I took the photo below as it was rising behind my cottage on Friday night through the bare branches. I did not have my tripod and so tried holding the camera myself. The result was a blurry image, but I like the effect, almost like a watercolor. Then I added some colorizing in Photoshop to get the bluish hue.

What is your ode to the moon? What does she stir in you?
Immediately I remembered Janis Joplin's "Half moon, night time sky, Seven stars, Heaven's eyes. Seven songs on seven seas, Just to bring all your sweet love home to me. Your love brings life to me" ... but I sang it to myself as
Full moon, night-time sky
...to return to this party, I haven't included Christine's image, because when I looked through just a few of my own I've Photoshopped, it seemed as if close to half of my art includes a natural source of light—most often the sun, but sometimes a round full moon. It's interesting that my moons rarely are crescent, sliver, half or anything other than full. This topic also helped me reminisce about a plethora of songs along with the places I've been when those songs were current. However, in the interest of posting this blog, rather than attempting a poem or more prose, I'm participating in the party with three of my graphics: