from minnes(n)o(w)ta and from singing owl, here's this week's post-t-day friday 5
:
1. did I go anywhere?
one of my congregations sponsored a wednesday afternoon 4:00 pm church and community dinner.
how was it?
great, thanks for asking! and thursday morning i attended the 10:00 am service of the word and was disappointed not to sing "we gather together" or "come, ye thankful people," though ken, the organist for this morning, played a prelude that included both songs. senior pastor said he didn't choose those hymns because this geography doesn't really strike him as harvest-timey. whatever.
2. main course:
turkey, mashed potatoes, gravy, stuffing, cranberry sauces and relishes, macaroni salad, caesar salad, sweet potatoes/yams, mixed veggies, rolls & butter, pumpkin pie, pecan pie. the bill of fare totally surprised me since the hispanic congregation did most of the cooking, and our potlucks always are at least bi-cultural, often multi.
nothing but the turkey?
we also enjoyed some tasty ham.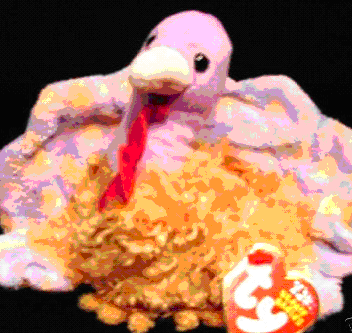 3. annual t-day customs other than the meal -
the only one is displaying my
tommy
tm
turkey ty® beanie-baby, whose d.o.b. was 21 november 2002.
4. do i plan to hit the retail circuit on friday -
yes, if not actually circuiting through a mall or more, at least one big-box store. as long as they're not drunk, brawling and/or out of control, crowds energize me so!
5. christmas décor -
like many if not most, this condo association has rules saying when holiday stuff can go up and stay up fore-and-aft a holiday, and decorations for the december holidays can go up either on thanksgiving or the day after and stay up until new year's day. however, i usually wait until advent 1 and gradually put out one or two things at a time.