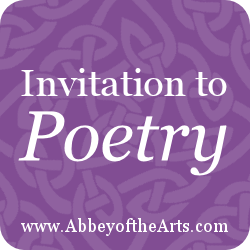 Abbey of the Arts poetry party 7: hidden rooms
I have this ultra-major thing for painted wood, in fact I've had it all my life, appropriately twinned together with my love of 100% cotton, and over the past half-dozen years I've painted or repainted at least eleven pieces of furniture! I also painted over the kitchen cabinets that were the same color as the dark green trim of the exterior of this building when I moved in, plus I've painted the inside of my entry-way door very slightly greener and a tad more subdued than the same-style blue door in this picture; although I've finished furniture painting for now, I still have a couple pieces to refinish. Maybe fresh paint and cotton sound very country, but I can tell you for sure I'm citified right to my center, to my heart...
great pic, Christine!
heart room(s)
almost contrary to a wide reputation for spacious capacity, my heart fears not so much someone else opening its door at my invitation or from their own intent, but more often I'm closer to concern I'll let it swing open by casual almost mistake and my heart will need to carry too sizable regrets forevermore