from Singing Owl—I love this one!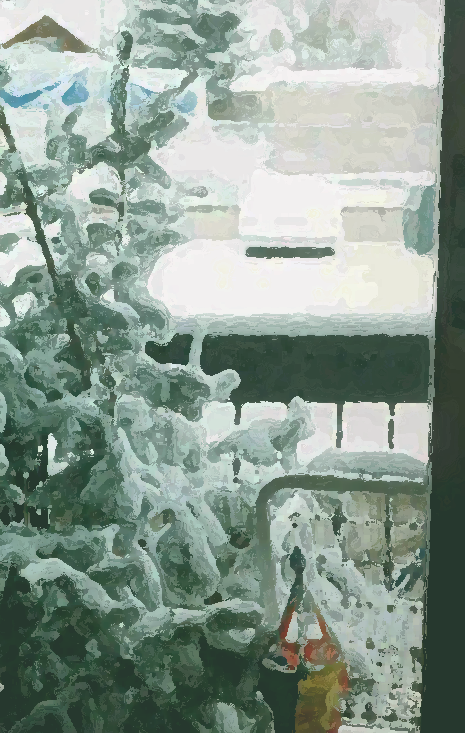 Singing Owl posted a pic looking out a window from where she currently lives; my "snowy tree" is one of the series of Christmas trees I put out on my porch after Christmas when I lived in the snowland of High Desert City.
1. According to channel 10, it was about 45° F. around 5:15 in Paradise this morning, but I don't have an outside thermometer so regarding Where I Live that's approximate.
2. Do I love snow or hate snow? It totally depends. Snow falling out of the sky already in mini-snowball form accurately predicts slush, layers of ice, urban corn and impossibly hazardous driving, so I don't care for that at all. But powder slowly drifting earthward as it gathers itself into a lovely soft though chilly to the touch blanket can be a true delight, especially since that variety of snow goes along with drier climates, as in "The Greatest Snow on Earth!" among others.
3. About winter here in Paradise, technically we're in the Sonoran desert region and not far from the Mexican border, so you can tell a little about the generic climate, though it's not quite the stereotypically desert I visit in Arizona. The Rainy Season officially begins in October (I think...I'd better check that out), and right here, a couple miles from the beach, most days hover around 60 F. or so. Cool enough to wear sweaters and light-to-medium weight jackets.
4. Do I like winter sports? Not technically—NBA season can be fun, but I think Singing Owl probably means skiing, hockey, sledding, ice skating... My
good story
is about being a good winter sport by driving the youth group to the ski resort more than once and then sitting in the lodge while the kids enjoyed themselves trying to navigate the slopes.
5. Technically summer is my favorite season because I love the long days, predictably warm weather, occasional cooling rain, barbecues, beaches and the feeling of the fullness of hope in the air.
bonus
: Share a favorite winter pick-me-up. A recipe, an activity, or whatever. This may not quite qualify as "activity," but I've learned to appreciate the subterranean, near-silent growth that happens during the colder seasons, closely parallel to the vast amount of life underneath the immediately apparent top layer of the desert. I'll say more about that when I begin blogging for our next book discussion.