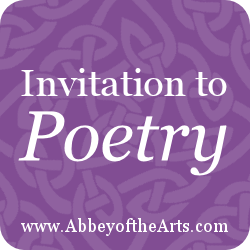 Abbey of the Arts Poetry Party 31
, and on Monday Christine greeted us with, "Happy Feast of Imbolc, St. Brigid's Day, Candlemas, and Groundhog Day!"
I especially love her intro:
Imbolc is a Celtic feast that is cross-quarter day, meaning it is the midway point between the winter solstice and spring equinox. The sun marks the four Quarter Days of the year (the Solstices and Equinoxes) and the midpoints are the cross-quarter days. In some cultures today is the official beginning of spring.

As the days slowly lengthen and the sun makes her way higher in the sky, the ground beneath our feet begins to thaw. The earth softens and the seeds deep below stir in the darkness. The word "imbolc" means "in the belly." The earth's belly is beginning to awaken, new life is stirring, seeds are sprouting forth. So even though many of you reading this may not see the signs of spring anywhere, they are there beneath the ground.

Candlemas and Imbolc are traditionally a time to look forward. I invite you to write a poem to help notice what the new life stirring within your own belly feels like or the stirring in the world around you deep beneath the frozen ground.
days of future present

parched ground cracks
slurp up today's
early february hint-of-spring rains
that soften the soil for fertile seeds

the earth opens wide
for a surprise of new life
my feet slip in every direction
my belly and my brain feel seasick

like cross-quarter days
neither fully the last season
nor wholly the next one
being on any threshold
makes maintaining any sort of balance
more than uncertain...

the pointer sisters sang "jump for my love"*
the liminal can't hold us steady where we used to live,
so I'm telling us to jump in!
I am the one, you are the one, we are the ones...
heaven on earth waits here at the door

then jump for the love,
for the life of the world
so jump into spring
jump into easter
jump into spring!
*"Jump (for my love)" written by Steve Mitchell, Marti Sharron & Gary Skardina; performed by The Pointer Sisters