Today Mother Laura asks...
...in honor of summer, please share your own memories, plans, and dream with a
Beach Trip Friday 5
My image is a scrapbook page featuring a photo of my grandparent's house and a pic of the flower garden, a Susan Branch drawing that looks sort of like me and assorted blandishments.
1.
Ocean rocks, lake limps or...
Ocean! oCEAN!
OcEaN!
ocean! OCEAN!!!!! etc.....
2.
Year round beach living...Heaven or the Other Place?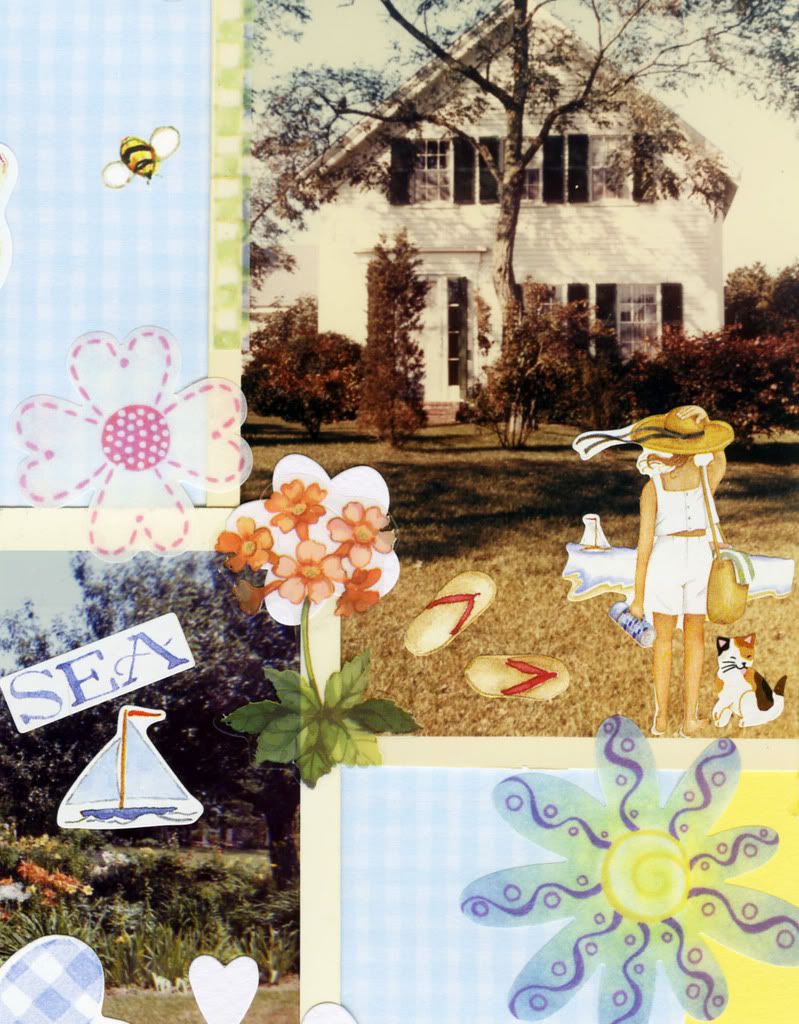 Depends.
Urban
beach living, maybe, depending on where and how. I've lived within a short walk of urban, suburban and rural beaches though not on the beach, so that's probably the best compromise. Currently I'm 15-20 minutes away and that's cool, also. I love knowing it's there, but during the warm months *our* beaches actually are far too crowded, so walking on the sand alongside Ocean Pacific in the off-season is a great activity. Seems as if I mentioned both Atlantic and Pacific Oceans in last week's 5!
3.
Any beach plans for this summer?
Not yet, but I'll blog when they happen.
4.
Best beach memory ever?
Endless memories of so many beaches and experiences thereof and thereon! One of them in particular haunts (in the sense of wanting to duplicate the time or at least the experience today in 2008) me every single day; that's the week I spent right on the beach in the town of Truro on lower Cape Cod, where we'd walking out the door right onto the sand. A classmate's family rented the same house every year and we made almost nightly excursions into nearby Provincetown. I'll also mention the summer I worked for a family with three kids as an
au pair
in Nahant, Massachusetts. The house was right across from the beach and that summer was quite good in almost every way.
5.
Fantasy beach trip?
Maybe simply a few more late weekday afternoon/early evening summer picnic potlucks on La Jolla Shores. I can't think of anything fancier or more elaborate right now, especially considering that I was astonished to discover F5 posted so early—I'd gone over to read ATM, which can wait until tomorrow.
bonus: a piece of music/poetry/film/book expressing something about what the beach means to you.
Henry Beston's book about
The Outermost House
—I never visited it, but loved the book and wept when I heard the outermost house had washed out to sea. For a few others, Crosby, Stills and Nash, "Southern Cross" (you don't really need or want an exegesis of any of this, do you?); Bob Dylan's "When the Ship Comes In"; "Rock me on the Water" by Jackson Browne (I think); Handel's
Water Music
, though I'm familiar only with the suite; Karla Bonoff singing her own "Faces in the Wind"; more to come...
thanks so much, Laura!